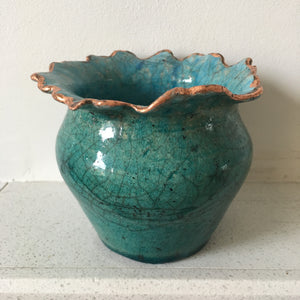 SOLD - My Raku fired pieces are mindfully thrown on my potter's wheel & gently stroked into shape. Once dry, they are bisque fired in the kiln then painted by hand in reactive glazes. During the second firing, the pieces are removed from the kiln at 700 degrees and placed in a metal container filled with sawdust and other natural materials. These materials immediately catch fire, engulfing the ceramics in flames. The lid is placed on the container to quell the flames; once cool, the ceramic pieces are removed and scrubbed clean, to reveal the unique patterns and patina created by the flames.  
A perfect gift for your loved one, your home or you. Give a gift as unique & beautiful as the one you love.
Dimensions: 13cm high x 9cm wide approx
Please note: each of my forms are lovingly created by hand & one of a kind - no two items will ever be identical. Their individual maker's markings and the unpredictability of glaze reactions during the firing process tell the story of their creation and only add to their unique beauty. You can be assured that your purchase will be the one pictured and will truly be a piece of art completely unique to you.
Aftercare: Due to the nature of the materials used, my art pieces are intended for decorative purposes only, to be placed in your favourite room & admired. They are not intended for food use. Please do not place in the microwave or dishwasher.
Gift Wrapping & Packaging: All of my items are sent beautifully gift wrapped with a blank gift tag and carefully packaged & protected for their journey, to ensure they reach you safely.